In order to integrate values in a organisational or school environment, it is essential that all interested populations have clarity of the behaviours required in order to live the values, and can model and communicate the values on a daily basis.  A full values alignment process looks like this: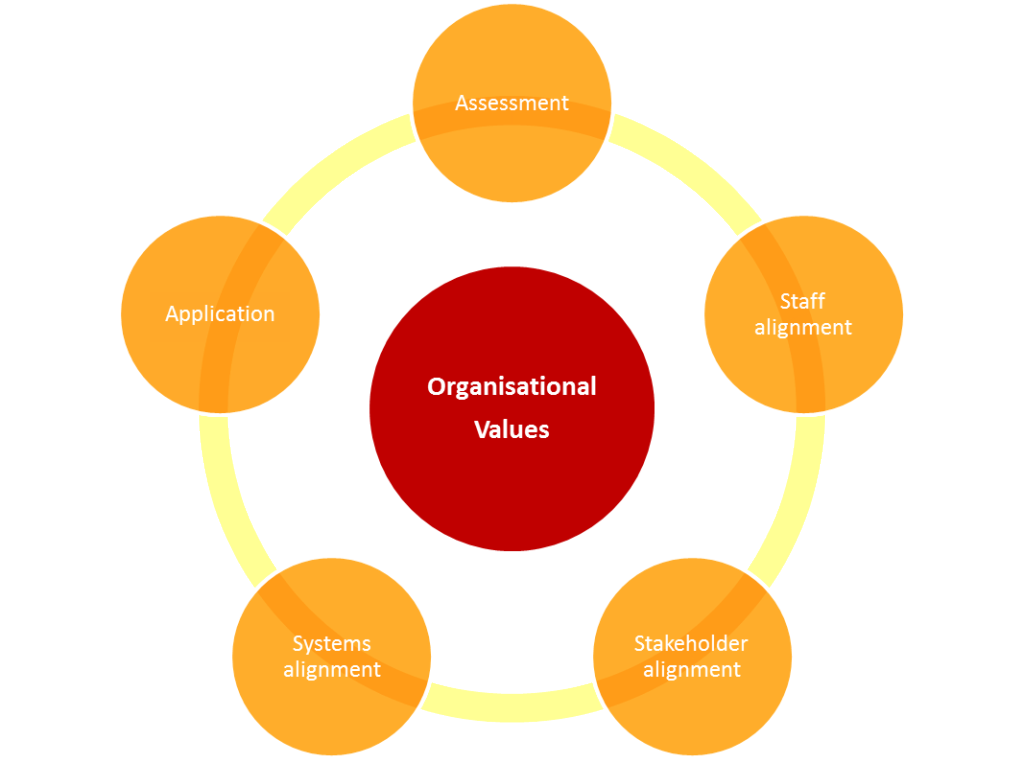 Accordingly, the services available to support values alignment at in organisations are:
1.  Assessment:  A customised online opinion survey is undertaken that focuses on the organisation's values, and how they are "lived" in day to day life.
Develop survey based on existing values and behaviours
Deliver survey to:

All staff
Board/Council members
Other stakeholders as appropriate (e.g. customers students, parents, suppliers)
Outcome:  To determine the extent to which the organisation is 'values driven'; in particular the values espoused are experienced by staff and significant stakeholders.  "We can manage what we can measure" – a report will be produced that unpicks the detail behind the data collected, and support the organisation in creating a values-driven culture. The data prompts conversations which can build trust, improve communication and deepen understanding.
2.  Staff alignment:  A 3-hour facilitated session for staff that promotes the organisations values and helps staff to be able to describe positive values-based behavioural expectations for staff to staff, staff to client, and other relevant interactions.
Outcome:  Identification and reinforcement of organisational values, and development of a list of clearly defined behavioural expectations so that staff can role model values behaviours on a daily basis, and communicate these clearly to clients and stakeholders when required.
3.  For schools, student alignment:  A session for the students that helps them to understand the school's values and what behaviours are expected of them (self-directed discussions in small groups, not instructional). The workshop helps students understand behaviours, and not buzz words so that they can "follow the values" (which are broader), rather than "follow the rules".  This session could be developed for facilitation by school leadership, or by the consultant, or both.
Outcome:  Students will engage with the values at a personal level, helping them to make good choices about their own behaviour and support their peers in a positive way.  It is also helpful to establish common language and expectations among staff and students.
4.  Systems alignment:  During the staff workshop it is anticipated that a number of ideas will emerge that may be considered to make changes to existing systems – this includes incentive systems,  behaviour management processes and staff performance management. A separate 1-2 hour facilitated workshop of the leadership team may be beneficial in order to review the reward, behavioural and communication systems and processes employed at the organisation, and determine what amendments could be made in order to embed and support the values behaviours on a daily basis. Telephone plan implementation support is included during the following term.
Outcome:  Identification of improvements required to existing systems, and/or new systems that can be introduced in order to align organisational processes to the values and values behaviours.
 Contact us for more information or to book a free consultation to discuss your needs.