
January 3, 2011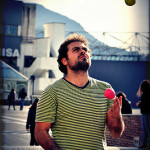 Happy New Year to everyone!  2011 is purported to be a year of new blessings and new beginnings and this is certainly the case for me.  A new website, new Financial Leadership Coaching program just launched, and a new BIG product under development right now!  It's all very exciting and with so much activity and focus on the new it's important to keep my eye on the existing commitments and ensure that I make time for my family and for my own health and fitness. 
I'm sure I'm not alone in feeling that life is, at time, a bit of a juggling act.  Most business owners and executives I work with often find that they're left feeling a bit stretched – that whole concept of work/life balance was borne from this.  But many times I find that they are, in fact, their own worst enemy.  Do you know anyone who:
has to do the work themselves because there's no-one else capable of doing it as well as they can?
has to rework the efforts of their team?
has to micro-manage every detail to the point of the ridiculous?
Now I can honestly say I've met lots of managers who fall into one of these traps. And I can also honestly say that I have been guilty myself at times of the same behaviour.  However if it's something you personally have been troubled by for an extended period of time, then you're likely to be feeling stressed and have a general feeling of pessimism about the future.  Who wants to live like that?
Managers manage and leaders lead.  It's that simple.  If you want to get out of the rut of doing everything little thing yourself just to get it done right, then you may need to change your stance to that of a leader.  Build a strong team of people around you to support you – no amount of time management training will change things if there's only one person with 24 hours each day to keep a business, family and healthy body running smoothly. Then let things go – if you've selected the best people for your team, you can trust them to do a great job.  You may need to teach them a little along the way, but if you give them the space to jet their jobs done you may be surprised that their results could even surpass your own lofty benchmarks……